Live animal handling (AVI)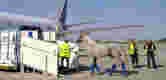 Leipzig/Halle Airport offers ideal conditions for transporting live animals. If you want to ship large animals, Leipzig/Halle Airport is your reliable partner.
Our experts are available to help you round the clock and ensure stress-free handling for your animals. A personal key account manager looks after you and the needs of your animals and ensures short transit times, maintains direct customer contact, coordinates the shipment and communicates with the partners required for it.
Advantages at Leipzig/Halle Airport
The latest equipment to handle large animals
Truck parking spaces directly in front of the cargo area
Short routes to apron areas
Experienced IATA-certified personnel for all aircraft types and all kinds of freight, including large animals (e.g. cattle or horses)
Vets on the spot
24/7 customs clearance
Other benefits provided by our facilities
Centre for animal exports
Many years of experience and extensive expertise in handling animal exports at our special animal export centre that measures 1,300 square metres. You can use the spacious delivery area to exercise your animals, if necessary. Support personnel for the animals have access to rooms for resting. Large animal pens – especially for horses – and several other pen facilities guarantee that the animals are treated properly. Veterinary personnel and customs officers are available at the airport round the clock. There are only four airports authorised to export cattle in Germany. Leipzig/Halle is one of them. Our experts are professionals in setting up cattle pens according to IATA's Live Animal Regulations (AVI). A quarantine facility forms part of the veterinary border inspection point.
Veterinary border inspection point
Saxony's only veterinary border inspection point is authorised to import animals and agricultural products in compliance with European Union regulations.
Our inspectors ensure that all products comply with EU food law requirements.
Veterinary border
The airport has a veterinary border inspection point. The inspection point is authorised to import animals from other countries and look after them during transit.
Contact your live animal handling expert