Indoor Ad‌ver‌ti‌sing
The terminal at Dresden Airport, which is bathed in light and creates a fascinating atmosphere with its mixture of modernity and historical industrial architecture, provides a suitable framework for your advertising message.
The indoor advertising spaces are spread over four different areas inside the terminal building. You can set up analogue or digital visual displays at the check-in area on the departures level, in the arrivals area that is open to the public, in the security area for arrivals and in the security area for departures.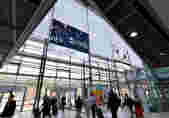 Booking request
Are you interested in an indoor advertising space at Dresden Airport? Make a non-binding booking request and receive an individual offer.