Outdoor Ad‌ver‌ti‌sing
The outdoor advertising areas at Leipzig/Halle Airport are all located on central transport routes and therefore guarantee a high level of attention from passengers and visitors to the airport.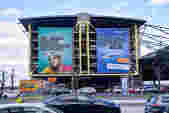 The following outdoor advertising opportunities are available here:
Multi-storey car park: two large car park banners directly opposite Terminal B
Parking tickets: space for advertising on the reverse side of the parking tickets
Parking barriers: advertisements on the entry and exit barriers at the car parks and the multi-storey car park
Flags: advertising flags directly in front of the terminal building
Apron buses: internal and external advertising on the buses that take passengers to aircraft
Advertising banners: advertising spaces with different sizes along the access routes to the airport and the roads at the airport site
Various special large spaces, e.g. on the combined heat and power station, the viewing tower or on the technical centre
Advertising presentations at various sites and with different designs
Booking request
Are you interested in an outdoor advertising space at Leipzig/Halle Airport? Make a non-binding booking request and receive an individual offer.