Aircraft Main‌te‌nan‌ce and Re‌pair Work at Dres‌den Air‌port
Airlines can have their aircraft checked, repaired and modified at Dresden Airport. The technical expertise available at the Elbe Flugzeugwerke and PAD Aviation Technics companies based at the airport is in demand internationally.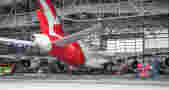 Elbe Flugzeugwerke GmbH (EFW) – a joint venture between ST Engineering and Airbus – pools various aviation and technology activities at one site:
Maintenance, repair and overhaul (MRO) services for all Airbus aircraft
Developing and manufacturing fibre composite components for the complete Airbus family
Converting passenger aircraft into cargo planes
Engineering services as part of certification and licensing procedures
PAD Aviation Technics GmbH is a repair company for commercial aircraft and offers a wide variety of services. There is space for aircraft as large as an Airbus A321 in its hangar.
Authorised for all aspects of line maintenance
Europe-wide AOG support
Away-team maintenance
Aircraft storage
Replacement of engines & APUs
Cabin modification / reconfiguration
Incoming inspections
A-checks or equivalent
Ad hoc maintenance
Hangar space for up to one A321 sized aircraft
Parts / component storage and handling
Purchasing of materials
Logistical support
Performing UVV for ground equipment
Federal Aviation Office approval as a maintenance company is available for the following types of aircraft:
AIRBUS A318/319/320/321 (CFM 56)
AIRBUS A319/320/321 (IAE V2500
AIRBUS A319/320/321 (PW1100G)
BOEING 737-300/400/500
BOEING 737-600/700/800/900/BBJ
BOEING 757-200/300 (RB211)
BOMBARDIER CRJ 700/900/1000
BOMBARDIER Dash 8-Q400 (PW150)