General A‌via‌ti‌on at Dres‌den Air‌port
The GAT at Dresden Airport is located in a separate handling area on the arrivals level in the terminal building. This means it is only a short walk from the car park to an aircraft. Dresden Airport handles private and business passengers quickly and separately from scheduled and charter services. There is a separate lounge and check-in facilities for the passengers and the crew.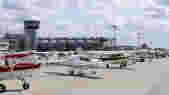 The GAT also provides a number of other functions and services.
Suitable comfort
An individual atmosphere
Flexible check-in times
High security standards at an international commercial airport
Transporting passengers, crew and luggage between the aircraft and the GAT
Ordering fuel, in-flight catering, de-icing facilities and ground power units
Flight advice, flying weather advice (AIS/MET)
Information in advance from public authorities (border police and customs service) for international flights
Assistance for disabled passengers
Conference and VIP rooms
VIP support
Taxi and car rental services
You can find the GAT at Dresden Airport here.
More information:
General Aviation – Services and what is available [PDF; 2,6 MB]
Weekend-Specials for small planes
Special conditions are available at weekends and on public holidays. PortGround GmbH coordinates and invoices services and provides support in the GAT on behalf of Dresden Airport.
Exemption from stand fees and
50 percent discount on the basic fees published in the Fee Structure for GA private flights with a MTOW of up to 2,000 kg
At weekends from 3 p.m. Ltime on the previous day until 10 a.m. Ltime on the next day
On public holidays from 3 p.m. Ltime on the previous day until 10 a.m. Ltime on the next day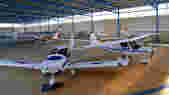 Airport Lounge
You can make use of a separate lounge for up to 20 people as a VIP or a business passenger at Dresden Airport. The room is also available to passengers on Aeroflot and KLM flights who use the frequent flyer programmes. The lounge is located on the arrivals level. As a guest, you can obtain hot and cold drinks as well as small snacks. A TV and Wi-Fi are available in addition to a wide range of different newspapers and magazines. Any passenger can use the lounge – regardless of their airline or booking class. You will find the charges in the Fee Regulations.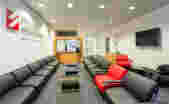 Fee Regulations at Dresden Airport
All the take-off and landing fees, passenger fees, stand and parking fees are listed in the Fee Regulations at Dresden Airport. You will also find information about special regulations and the infrastructure in them. You will find the charges for using the lounge in the Fee Regulations too.