Infra­structure at Lei‌p‌zig/‌Hal‌le Air‌port
Leipzig/Halle Airport has a parallel runway system that enables independent flight operations on both runways round the clock. The airport is located at the heart of Europe, has ideal links to the German and European motorway networks and is an attractive business site for many companies because it is Germany's second-largest cargo airport. More than eight million people live within the airport's catchment area.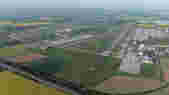 A summary of the airport's benefits and information that is relevant to air traffic
24/7 operations for cargo flights
Daily flight operations from 5:30 a.m. until 11:30 p.m. for scheduled passenger flights
Two separate runways
Length of the northern runway: 3600 metres by 45 metres
Length of the southern runway: 3600 metres by 60 metres
25 parking positions for aircraft
Six jetways
Fire-fighting vehicles and recovery equipment for technical assistance in line with the ICAO Class 10 guidelines
Aircraft fuels available: JET A1, AVGAS 100LL
Motorway and railway links
Airport codes
Geography and meteorology
Airport coordinates: 51° 25' 26,4" north, 012° 14' 11,0" east (location: 50 metres north-west of the tower)
Airport altitude: 470 feet (143.3 metres) above sea level
Average temperature in the month of July: 21.5 °C (2018)
Average temperature in the month of January: 4.1 °C (2018)
Prevailing wind direction: west

You can find more information on the cargo infrastructure at Air freight and logistics.