Event areas at Dres‌den Air‌port
The event areas in the terminal and outside space at Dresden Airport are ideal for all kinds of events: trade fairs, congresses, graduation parties, product presentations, concerts, weddings and a great deal more. The following areas are available.
Event-Platform
The Event Platform is located on the gallery level of the terminal building, directly below the glass roof. The location provides a unique view of the airport's runway and the apron area. The Event Platform measures about 2000 square metres, provides space for up to 950 people and gives a special sense of flair to any event. If necessary, you can also book the conference floor below it, including the LuftRAUM event location, so that you can accommodate up to 1200 guests at an area measuring 4000 square metres. Both terminal levels are connected to each other via escalators and a panoramic lift.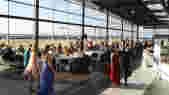 LuftRAUM event location
The LuftRAUM indoor location is located one floor below the Event Platform in the Conference Center. Like the Platform, you can view all the aircraft movements on the runway through large panoramic windows from the LuftRAUM too. The location measures about 500 square metres and, if necessary, provides space for up to 250 people. You can also book the location in connection with other rooms in the Conference Center or the Event Platform.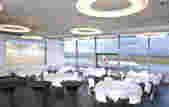 Event Hangar
The Event Hangar is located on the airport site and is ideally suitable for major corporate events, product presentations and trade fairs. Thanks to its generous space measuring 3400 square metres and no obstructions, you can configure the hangar fully in line with your wishes and ideas. The huge roller shutters provide an important benefit – they allow you to even transport fairly large items of event technology and stage equipment into the hangar without having to overcome any obstacles.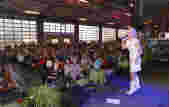 Booking request
Are you interested in hosting your event in our rooms at Dresden Airport? Make a non-binding booking request and receive an individual offer.
More Information
The State Tourism Association awarded the Quality Seal for Service Quality in Germany Stage II to the customer service department at Dresden Airport for its excellent services offered to guests and customers.
Tip: Combine your event with an exciting airport tour!