Event areas at Leip‌zig/‌Hal‌le Air‌port
The event areas in the terminal and outside space at Leipzig/Halle Airport are ideal for various event formats – for example, congresses, trade fairs, roadshows, fashion shows and concerts. The following areas are available.
Green Centre
The Green Centre open air space is located at the centre of the airport. Measuring about 28,000 square metres in total, the grass area also has a beach volleyball court. The area has its own electricity and water connections. There are toilet facilities in the central terminal nearby and parking spaces in the multi-storey car park in the direct vicinity.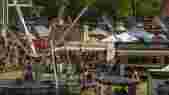 Central check-in area
The check-in area is located in the northern part of the central terminal. The view of the northern runway, the A14 motorway and the airport's railway station guarantees a sense of modern airport flair. The area measures about 300 square metres and offers space for as many as 300 people. Toilet facilities and parking spaces in the adjacent multi-storey car park are available in the immediate vicinity.
Booking request
Are you interested in hosting your event in our rooms at Dresden Airport? Make a non-binding booking request and receive an individual offer.
More Information
Tip: Combine your event with an exciting airport tour!