CORPORATE FIRST AID TRAI‌NING
Leipzig/Halle Airport's Fire Training is a training center recognized by the "Qualitätssicherungsstelle der Berufsgenossenschaft" and the government agency in Chemnitz. It offers various trainings, such as courses in first aid and basic life support.
In cooperation with different partners further rescue trainings are available, e.g. a train-the trainer course for first aid.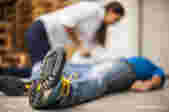 First aid skills following an accident are not only important at the airport, but also in road traffic or at work. This is why, for instance, the number of first responders in a company is governed by provisions set out by professional associations, which also assume the fees for first responder training for their company members. The Fire Training Leipzig/Halle Airport is an officially recognized training centre for first aid. It is therefore qualified to conduct training courses for professional first responders or for driver's licences.
Training courses in accordance with professional association regulations
First aid course (8 hours)
First aid refresher course (8 hours)
Course dates: