Heat trai‌ning
The fire containers allow safe conduct to be practised under realistic conditions. Participants learn the procedures to be followed in fire-fighting situations involving buildings and are able to test the limits of their protective clothing.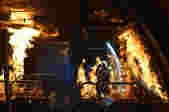 The wood-fired, mobile fire container offers realistic training in fire-fighting situations involving buildings, also depicting the dangers of rollover fires. Flashover fires can be witnessed from the observation room. The container can also be equipped with furniture to create an active fire-fighting scenario. In order to simulate a cellar fire, the 14-metre-long training facility also has a roof entrance with stairs leading into the observation room. The mobile training facility enables members of the fire service to conduct realistic flashover training at any desired location.
Training courses:
Course dates:
Course date by individual arrangement. Individual training sessions can also be organised upon request at the customer's premises.
Prerequisites:
G 26/3 medical check-up
Completed basic training for breathing apparatus wearers
Completed basic training for fire fighters
Besides the fire container, the training center also offers a heat acclimatisation facility for fire training. An obstacle course in the container facility enables participants to gradually approach the heat source. Tasks can also be integrated into the course depending on participants' previous experience. Specially qualified trainers both in and away from the facility are in constant radio contact with participants to guarantee safety during training.
Course dates:
Prerequisites:
G 26/3 medical check-up
Completed basic training for breathing apparatus wearers
Completed basic training for fire fighters