Business Space at Leip‌zig/‌Hal‌le Air‌port
Leipzig/Halle Airport offers a wide-ranging portfolio of business spaces. Plots can be tailored towards hugely varied user profiles, ranging from e-commerce to pharma logistics and from the service sector to the manufacturing industry. Here you can find a sustainable real estate location for commercial real estate development. The airport's plots offer exclusive potential to investors from the areas of office and commercial real estate, the hotel industry and the trade sector.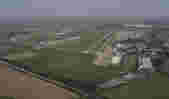 Leipzig/Halle logistics region - invest at the airport
The airport stands out as an interesting investment / commercial location thanks to its attractive plots and market-oriented, real estate portfolio, situated at the very centre of a modern, developed infrastructure.
Cargo Area South: the perfect place to invest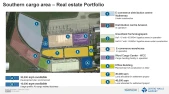 The sites available in Cargo Area South offer an ideal environment for air cargo companies and air cargo users in particular.
Cargo Area South has its own apron and is also connected to the take-off and landing runway system via separate taxiways.
Both developed and undeveloped areas are available, all of which are directly accessible by a four-lane highway, the autobahn and railway networks.
Cargo Area South offers:
a twelve hectare apron with space for up to six AN 124-100 or Airbus A 380 cargo planes
developed commercial construction ground, part of which has direct access to the apron
vacant sites for companies from the air cargo and logistics industries
direct access to the rail and road system
World Cargo Center:
20,000 sqm cargo hangar
annual handling capacity of 200,000 t
cargo transhipment hangar with direct access to the apron and integrated customs office
3,000 sqm office complex and parking spaces
A cargo hanger - meeting the most up-to-date requirements - was constructed on an area covering approx. 36,500 sqm.

Greenfield Logistics Park:
85,000 sqm Size of plot
45,280 sqm Warehouse space, buildings 1-5
3,600 sqm Intermediate floor space
2,300 sqm Offices/recreation areas, assembled
2 office buildings, 3-storey (2 x 900 sqm)
2,300 sqm Office building, 5-storey
10.30 m Height of lower girders
37 Number of truck ramps
8 Number of ground-level truck gates
1,800 sqm Canopy over ground-level gates
Operating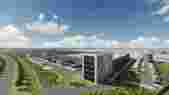 The market-driven and future-oriented area potential on site offers diverse investment perspectives.
Besides Cargo Area South, there are other attractive areas of variable sizes and layouts available at the airport. This means that the airport can react dynamically to companies' settlement trends.
The local cargo area presents itself as an efficient consolidation and distribution centre within the global goods and commodities traffic network. The fact that it can be developed guarantees long-term planning security to potential investors.