Renting par‌king spa‌ces on a long term ba‌sis at Leip‌zig/‌Hal‌le Air‌port
Companies based at Leipzig/Halle Airport can rent commercial parking spaces on favourable terms on a long-term basis. There are areas for both cars and trucks. Depending on their field of operations at the Leipzig/Halle Airport site, they can use various parking spaces on a long-term basis. They can, for example, conclude rental agreements in the multi-storey car park or agree with us on the permanent use of the parking spaces on selected outdoor parking spaces. All the parking spaces are located very close to the terminal building and our office space.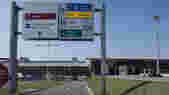 Booking request
Are you interested in a permanent parking space at Leipzig / Halle Airport? Make a non-binding booking request and receive an individual offer.