Biomoni­toring
There are various methods of monitoring the quality of the environment using bioindicators. Biomonitoring provides ecologists with an insight into the impact of all abiotic and biotic factors in an ecosystem.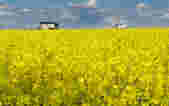 Projects

Biomonitoring with bees
Two bee colonies are regularly kept on the grounds of Dresden Airport to monitor emissions from inbound and outbound aircraft. Bees absorb pollutants directly from water or the air, or indirectly via the nectar and pollen they collect. As bees can cover an area of up to 12 square kilometres in their quest for food, biomonitoring can provide a representative overview of the composition of the pollution burden, thus producing a picture of the environmental conditions in the harvest area. The airport honey harvested is of the very highest quality.
Information leaflet with details of the project (German only)
Test results from honey samples (German only)
Biomonitoring with curly kale
A second biomonitoring project, involving growing curly kale, was carried out in 2008. Kale is an indicator plant which is used to check for the presence of polycyclic aromatic hydrocarbons (PAHs), by-products of burning fuel that are emitted into the atmosphere, from where they find their way back into the soil.
Two hundred plants were grown in a field roughly 100 square metres in size in the western part of the airport. Some plants were even planted between the runway and taxiway H. Laboratory tests subsequently revealed that the kale was of the very highest quality. The vitamin-C-rich vegetable was ultimately cooked and served as a side dish at the Dresden Hilton Hotel.
The idea of planting kale at the airport arose when Dr Michael Hupe, General Manager of Flughafen Dresden GmbH, was crowned Dresden Kale King at the Dresden Press Club's traditional Kale Dinner at the Dresden Hilton in 2008.