Nature Con‌ser‌va‌ti‌on
Compensatory Measures and Protected Areas
In co-operation with the authorities responsible for the protection of natural resources, the biotopes on the airport grounds have been recorded and measures for their preservation and care have been discussed and agreed. As a result of structural measures and aviation safety requirements, some trees have had to be felled and some changes have had to be made to the management of green areas. In agreement with the relevant authorities, the required compensatory measures have been and will be carried out in two conservation areas directly adjoining the airport grounds:
Wilschdorf-Rähnitz sandhills
Moritzburger small-hill landscape
This small-hill landscape is considered unique in Europe. It is characterised by soft hills topped with oak, lime and hornbeam woods interspersed by moist hollows. Besides rare plant species such as Shepherd's Cress and Bogbean, endangered insects such as the Calosoma auropunctatum ground beetle and the Large Blue butterfly are also found there.
Parts of the conservation areas also form the protected Moritzburger Small-hill Landscape bird reserve. This area is one of the main breeding grounds in Saxony for the hobby, ortolan bunting, lapwing, sedge warbler and honey buzzard. It is also a major habitat for other breeding birds such as the kingfisher, little crake, garganey, Northern shoveller, red-backed shrike, marsh harrier, red kite and black woodpecker.
Up to 59 different species of bird and ground game (red fox, hare) and small mammals (mice, moles, bats) have been recorded in observations performed regularly around the airport area.
Anti-bird-strike measures
The Deutscher Ausschuss zur Verhütung von Vogelschlägen im Luftverkehr e.V. (German Committee for the Prevention of Bird Strikes in Aviation) continued its expert assessment of the biotopes at Dresden International Airport in 2004. In addition to an evaluation of the effectiveness of measures already taken, the assessment lists a number of other measures which would help to avoid or at least to minimise collisions between birds and aircraft. Zones outside the airport site itself have been shown to be the most critical areas. Further measures will be examined and implemented there under the lead management of the aviation authority.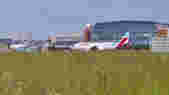 The investigations in the continued expert assessment have also revealed that switching to long grass management of the grass swards on the airport site over the past few years has proven successful. Leaving the grass in these areas to grow has created some high quality biotopes with excellent nature conservation qualities. This was done by:
ceasing to use fertilisers and pesticides
mowing no more than twice a year
not mowing before mid-July.
This form of grass management, which entails leaving the grass to grow long during most of the vegetation period, makes it harder for larger birds such as raptors to see their prey, making these areas unattractive to them as hunting grounds.
As a result, we have seen a continuous decline in the number of species of birds susceptible to bird strike and in the duration and frequency of their visits.