Neigh‌bours
It is very important for Dresden Airport to maintain good relations with its neighbours founded on trust. A constructive working relationship and sharing ideas with institutions and amenities in the state capital of Dresden, the surrounding city district offices, villages and the adjacent rural districts help boost the airport's image and enable it to act as a reliable partner in shaping and developing the region.
The main focus of actively maintaining good neighbourly relations involves supporting cultural associations, various youth sports groups, schools and children's facilities that are located very close to the airport. This also includes holding events and projects that promote cultural, sporting and social diversity in the region.
Close and cooperative relations with partners in the neighbouring area and holding many kinds of public events at the airport primarily help create transparency and trust by the airport with the people living in the close vicinity.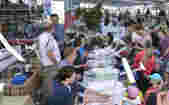 Neighbourhood to Poland and the Czech Republic
Dresden Airport's catchment area also includes Northern Bohemia in the Czech Republic and Lower Silesia in Poland. Dresden Airport is committed to good neighbourly relations. For example, it has been cooperating with the Czech city of Ústí nad Labem since 2018 to make the attractive services offered by the region and the airport better known.
To the Gate to Bohemia tourism portal