Noise Pro‌tec‌ti‌on
Although technical developments have brought many improvements, aviation is still associated with noise. It intrudes directly on the living conditions of many people who live near the airport. Flughafen Dresden GmbH has therefore made it a top priority to reduce the noise level in the vicinity of the airport. We have taken a number of voluntary measures to keep local noise levels produced by the airport as low as possible.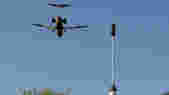 The following have been implemented, among other things:
Operating regulations for handling training and airfield traffic circuit flights introduced
The take-off and landing fees have been scaled according to noise levels. This gives preference to quiet aircraft and motivates airlines to use modern, less noisy planes.
A closer look at landing fees reveals that airlines have to pay up to five times as much for aircraft in the loudest category as for aircraft in the quietest category (ICAO Annex 16, Chapter 3, Bonus List). As a result of this policy, the proportion of these quieter planes, which are registered on the Bonus List published by the German Federal Ministry of Transport, has risen to the current level of 98% at Dresden Airport.
Voluntary support programme
As part of a voluntary support programme which ran from 1996 to 2002, financial support was provided for structural sound-proofing measures for people living close to the airport. Finance was provided for the installation of sound-proof windows in living rooms and bedrooms and for the installation of sound-proof ventilation systems in bedrooms. The investment volume of the support programme was approximately EUR 2.8 million. This made a vast improvement to the living conditions for more than 1,550 local residents
(640 households).
Discover More about passive noise protection.
Renovation and extension of the runway
In 2006 and 2007, Dresden Airport completely overhauled and extended its runway by 350 metres to 2,850 metres. As part of the planning approval procedure, expert assessments on aircraft noise were submitted. The noise exposure from aircraft noise and from ground handling operations likely to be caused during the project was calculated on the basis of an airport development forecast up to the year 2020. These findings were then evaluated in a noise-related health impact report.
In its planning approval decision of 25 October 2005 the planning approval authority imposed certain noise protection requirements. Among other things, the decision read:
"At the request of the owner of a site located completely or partially within the noise protection zone which was developed or was suitable for development on 17 January 2005, Flughafen Dresden GmbH must perform the structural physical tests and calculations of the necessary sound-proofing measures and must provide appropriate sound-proofing in living rooms and bedrooms. The sound-proofing must guarantee that inbound and outbound flights do not cause individual sound levels in excess of 55 dB(A) inside these rooms both by day and at night with the windows closed. The sound-proofing must also guarantee that the overall level of airport-generated noise (flight and ground noise) does not exceed a permanent sound pressure level Leq(3) of 40 dB(A) in living rooms by day and 35 dB(A) in bedrooms at night. If the noise protection offered can only be achieved at night by keeping windows closed, Flughafen Dresden GmbH must, at the owner's request, install ventilation in bedrooms and ensure that the difference in outdoor and indoor sound levels with windows closed is at least 25 dB(A).
The noise protection zone for both daytime and night-time protection encompasses the area in which an energy equivalent permanent sound level Leq(3) of at least 50 dB(A) is forecast during night hours (22:00 - 06:00) in the six busiest months (Annex 1, Noise Protection Zone). The ceiling is calculated taking all airport-generated noise into account."
The closing date for applications was 31 August 2009, two years after the renovated and extended runway was put into service. Apart from a few isolated cases, the structural measures needed to improve noise protection have been completed.
Noise map "Aircraft noise level ranges according to DIN 4109"
According to the Saxon building law, the owner of newly constructed or reconstructed buildings is responsible for ensuring that they are sufficiently soundproofed. To enable the owner to meet this obligation, Dresden city council has identified the areas in the territory of the city of Dresden in which higher exposure to aircraft noise can be expected in a so-called Environmental Atlas.
Based on the official noise map, it can be determined whether a noise study needs to be performed for a building project and which noise level range as per Table 8 of DIN 4109 "Sound Insulation in Buildings" applies. This data enables professionals such as architects, civil engineers or sound engineers to incorporate adequate acoustic measures into the building's exterior components.
Constant monitoring of aircraft noise in the vicinity of the airport is a legal requirement. Under Section 19a of the German Air Traffic Act (LuftVG), airport operators are required to set up and continuously operate equipment to measure the noise levels of inbound and outbound aircraft at their airports and in surrounding areas. In particular, operators are required to monitor the development of aircraft noise by performing long-term measurements and to check the effectiveness of the noise reduction measures that have been implemented.
The aircraft noise monitoring system at Dresden International Airport was upgraded in November 2017.
The new system consists of four stationary measuring stations located at sites in the vicinity of the airport. The sites were chosen jointly with the Aircraft Noise Commission for Dresden Airport, taking into account the requirements of DIN 45643-2011 "Measurement and assessment of aircraft sound". Sites that had proven their worth over many years were retained and a new measuring site was installed at Dresden Neustadt Clinic. The measuring stations are optimally placed to ensure that high-quality readings are obtained, in other words:
close to the published approach and departure procedures in order to register as many noise events caused by overflying aircraft as possible
in the vicinity of residential districts in order to correctly reflect the impact on residents;
avoiding extraneous noise such as road or rail traffic as far as possible.
More about noise monitoring.
Locations of noise measuring station
Measuring station 1: Städtisches Klinikum Dresden (Dresden City Clinic); Industriestraße 40, 01129 Dresden-Pieschen
Measuring station 2: Gomlitzer Höhe 13; 01108 Dresden-Weixdorf
Measuring station 3: Medinger Straße 12, 01458 Ottendorf-Okrilla; OT Hermsdorf
Measuring station 4: Kiefernweg 34, 01109 Dresden
When the aircraft noise monitoring system was upgraded in November 2017, we switched to monthly reports. These reports (German only) contain the measurements from all four measuring sites.
You will find the assessments from the earlier measuring points between 2018and 2020 as a PDF file here (2018, 2019, 2020, 2021 German only).
How noise is monitored
Measurements are taken continuously at all measuring stations and recorded for every second. Aircraft noise events are identified with the help of a graphical display of periodic measurements and aircraft noise identification parameters which can be configured to suit the location of the monitoring equipment and the acoustic conditions prevailing there (background noise, other noise sources). Other noise sources such as vehicular and rail traffic or birds can be filtered out with the aid of the parameters and by checking the audio recordings.
The measurements from the previous day are forwarded once a day to the central data processing unit where they are matched to aircraft movements, so that each aircraft noise event is correlated with a certain aircraft movement. This correlation process is performed with a time slot model which enables the time at which the aircraft overflies the measuring site to be determined based on the actual aircraft take-off or landing times registered in the airport's flight log and the approach and departure speeds of the various types of aircraft (jet aircraft, propeller aircraft, helicopters). Noise events which meet the aircraft noise identification parameters and which were recorded close to the calculated theoretical overflying time can thus be matched automatically and precisely to a specific flight.
Since the noise measurements could potentially be distorted by high wind speeds which cause significant sound pressure levels on the microphone, the aircraft noise events recorded in these conditions are not taken into account in the statistical analyses. This also applies in cases in which very loud noises from other sources mask the aircraft noise, preventing accurate measurement of the aircraft noise. Corresponding meteorological data is available from the METAR system and is also measured at measuring station 1 simultaneously with the aircraft noise events.
After final manual testing and correlation of each individual aircraft noise event, the acoustic parameters, such as the continuous sound level, are calculated and stored for subsequent analyses, together with all the acoustic and meteorological measurements and parameters.
In addition to general aircraft noise monitoring, this quality-assured data forms the basis for reporting to the Aircraft Noise Commission and for publication on Dresden Airport's website, as well as for responding to complaints about aircraft noise.
Single event and continuous sound level
Two variables are used as a benchmark for assessing aircraft noise levels: the single event sound level LAmax and the continuous sound level LAeq, both expressed in dB(A).
The single event sound level LAmax describes the maximum sound pressure level of an individual noise event, e.g. when a single aircraft passes overhead or nearby. The continuous sound level LAeq (often also referred to as the average sound level) identifies noise levels varying over time with just one number. In the continuous sound level, the strength and duration of each individual noise during a certain evaluation period are disproportionately high as they are logarithmic values.
The equivalent continuous sound levels LAeq,day and LAeq,night are therefore used as the basis for assessing aircraft noise. The diurnal assessment period is from 06:00 to 22:00 and the nocturnal period is from 22:00 to 06:00.
High-precision measuring equipment
We only use quality class 1 measuring equipment (the highest quality) as only these permit DIN-compliant measurements. To ensure the proper operation of our aircraft noise monitoring equipment, every measuring station is checked daily and acoustically calibrated at six-monthly intervals.
All measuring equipment used to monitor aircraft noise is tested and serviced every two years to ensure that it is fully functional and subsequently calibrated and verified. This repeated comparison of setpoint and actual values against a standardised comparison source is the only way to guarantee that the measurements are taken with the highest precision.
Sound level reference values
Very faint noises in a range between 0 and 20 dB can actually only be measured in sound-proofed labs, because ordinary ambient noise will always exceed these levels. Even the "absolute silence" of the remotest place outdoors produces noise levels of between 20 and 30 dB. A standard A filter is installed in the monitoring equipment to make allowance for the varying sensitivity of human hearing to high and low sounds. The unit of measurement is thus referred to as dB(A).
The following rule of thumb is used to express the correlation between the measured sound pressure level and the distance to the source of the noise: Tripling the distance reduces the sound pressure level by 10 dB and thus halves the perceived noise nuisance.
| Type of noise | Sound pressure level |
| --- | --- |
| Hearing threshold | 0 dB(A) |
| Breathing noise (at a distance of about 1 m) | 25 dB(A) |
| Very quiet room | 20-30 dB(A) |
| Ticking alarm clock | 30-35 dB(A) |
| Rustling leaves | 30-40 dB(A) |
| Whispering | 40 dB(A) |
| Normal conversation (at a distance of about 1 m) | 50-60 dB(A) |
| DA 20 Katana aircraft (2-seater, 0.7 t MTOW), passing at an altitude of 300 m | 60 dB(A) |
| TV at room volume (at a distance of about 1 m) | 55-60 dB(A) |
| Shouting | 70 dB(A) |
| Car (at a distance of about 10 m) | 60-80 dB(A) |
| ATR 42 aircraft (up to 50 seats, 16 t MTOW) during take-off, at a distance of about 300 m | 75 dB(A) |
| AVRO RJ aircraft (up to 112 seats, 44 t MTOW) during take-off, at a distance of about 300 m | 80 dB(A) |
| Main road (at a distance of about 10 m) | 80-85 dB(A) |
| Airbus A320 aircraft (up to 180 seats, 74 t MTOW) during take-off, at a distance of about 300 m | 85 dB(A) |
| Pneumatic drill at a distance of 1 m or heavy truck at a distance of 5 m | 90 dB(A) |
| Boeing B747-400 aircraft (up to 524 seats, 386 t MTOW) during take-off, at a distance of about 300 m | 90 dB(A) |
| Night club | 110-120 dB(A) |
| Car horn at a distance of a few metres | 110 dB(A) |
| Pain threshold | um 130 dB(A) |
MTOW = Maximum Take-Off-Weight