Energy Ma‌na‌ge‌ment
Airports require large amounts of energy, because a number of units and systems have to be available at all times, while the operator has relatively little influence on the level to which these units or systems are used and therefore their associated degree of efficiency. Taking into consideration these underlying conditions, every possible effort is being made to continually improve energy efficiency at Leipzig/Halle Airport.
Sustainable energy generation through a solar power unit
A newly constructed vehicle and equipment engineering complex went into service in September 2011.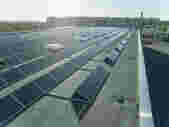 A solar power unit with 990 modules and annual output of up to approx. 200,000 kWh was installed on the roof. This is the average annual consumption of 47 households. By using this unit, Leipzig/Halle Airport is making a contribution to reducing its CO2 emissions. The unit enables the airport to save approx. 140 t of CO2.
A display board informs interested passengers and visitors in the public area of the airport terminal about the current output from the unit and the associated reduction in CO2 emissions.
The German Society for Sustainable Building provided a silver certificate for the new vehicle and equipment engineering complex as an outstanding sustainable building project. The organisation's basis for assessment not only covers ecological aspects, but also the all-round view of the complete life cycle of a building.
Efficient energy conversion
A combined heat and power station has been safeguarding the supplies of hot water, heating, refrigeration and electrical energy for all the handling equipment and technical airport areas since 1996.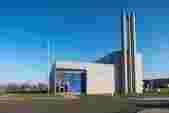 The key elements in the power station are gas engines with coupled generators to generate electricity. The electrical energy that is produced is fed into the airport's internal network.
Any surplus heat is used to supply hot water and heat the buildings as well as to cool them in summer using an absorption converter by means of a cooling water cycle and a heat exchanger. The unit guarantees the primary energy is used very efficiently.
Energy management system according to DIN EN ISO 50001
A certified energy management system in line with the international DIN EN ISO 50001 has been operating at Leipzig/Halle Airport since 2016.
The systematic energy management system involves logging flows of energy and analysing them to derive measures to increase efficiency and then introduce them. The goal is continual improvement in line with using energy in an efficient, economic and climate-friendly manner. Increasing the energy efficiency means that it is possible to reduce emissions of air pollutants resulting from air traffic operations.