Central German airports obtain CO2-neutral energy
The Central German airports have been purchasing "green electricity" since 2020 and have prevented about 6,800 tonnes of CO2 emissions as a result. Certificates have been purchased to compensate for the equivalent of 8,000 tonnes of CO2 from the natural gas that is used to operate the combined heat and power station and in building heating systems at Leipzig/Halle Airport. The combined heat and power station at Leipzig/Halle Airport has been purchasing gas certified as eco-gas since January 2020.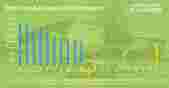 Thanks to purchasing CO2-neutral energy, the Central German airports reduced their CO2 emissions by 86% in 2020 in comparison with 2019. This means that our company has already significantly exceeded the industry goal set by German commercial airports for 2030 of reducing its emissions by more than 50 percent compared to 2010.
The Central German airports believe that enlarging their vehicle and equipment fleets to include alternative drive systems is an effective tool to reduce CO2 emission in the long term.
The vehicle fleet operated by the corporate group currently involves more than 120 vehicles with alternative drive systems.
They include electrically-powered
baggage tugs, conveyor belts and passenger steps, which are used on the apron area to prepare aircraft for take-off,
pushback vehicles,
high loaders and service vehicles.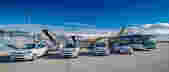 The corporate group has relied on innovations for using emission-neutral vehicles and completed the conversion of two fresh water vehicles to electric operations in-house.
Technicians at Dresden Airport converted a fresh water vehicle from an internal combustion engine to an electric drive system for the first time in 2019. As there were still not any adequate vehicles of this type with an electric power system on the market at this time, the engineers quickly developed their own solution. The change of drive system took about two-and-a-half months. The second vehicle followed one year later.
The project has been supported by the Federal Ministry of Finance, which financed the conversion as part of its funding guidelines for e-mobility.
The refitted fresh water vehicles are being operated by PortGround, a subsidiary of Mitteldeutsche Flughafen AG. In addition to preventing about 2 tonnes of CO2 emissions every year, the zero-emission vehicles are also an asset in terms of health and safety at work.
As they have a range of about 50 kilometres and a charging period of approx. one hour, the vehicles are acquitting themselves well in daily operations on the apron areas.


Thanks to their energy management system that is certified in line with DIN EN ISO 50001, the Central German airports are continually increasing energy efficiency levels at both the sites.
The Central German airports are preventing about 670 tonnes of CO2 emissions every year by switching the lighting to LED technology in the multi-storey car parks, the airport buildings, on the apron areas and in the outside areas next to the terminals.
The goal of reducing emissions is also being considered when planning and constructing new facilities and buildings. This is taking place by means of consistently using high energy efficiency standards.