Air Freight and Lo‌gis‌tics at Dres‌den Air‌port
Although the major focus at Dresden Airport is clearly on passengers, cargo airlines also fly to the airport. PortGround GmbH is responsible for handling the air freight shipments. Cargo and logistics companies have access to several warehouse and loading areas at Dresden Airport. The airport's customs office provides clearance for goods that are not duty-free.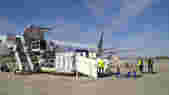 Certification:
IATA CEIV Pharma
Regulated Agent
AEO F Authorised Economic Operator
IATA CASS Agent
Good Distribution Practice (GDP)
Handling explosives
Handling radioactive cargo
Route planner for cars
Plan your route to the most important freight and logistics sites at Dresden Airport. Simply click on the icons on the map and then plan your route using the small route planner arrow.