The Air‌port Fire Bri‌gade
The airport fire brigade makes a major contribution to safety at Leipzig/Halle Airport. Without the work performed by more than 100 full-time and about 60 part-time fire-fighters, no aircraft could take off or land at the airport. The airport fire brigade has 29 vehicles in all, including several "Panther" fire-fighting vehicles. The fire-fighters at the airport are divided into three fire stations. They are involved in about 4,800 operations every year. In addition to providing technical assistance, one major focus involves transporting people with restricted mobility. The fire brigade also coordinates all the fire prevention measures and looks after the maintenance of the safety-related equipment.
Another major focus for the airport fire brigade at Leipzig/Halle Airport is on providing initial and further training. In addition to first aid courses, the fire brigade offers a large number of special operational training courses. The Fire Training Centre exists at Leipzig/Halle Airport for this purpose; fire-fighters from all over the world test their preparedness for a real emergency using special simulation facilities here.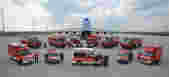 Du‌ties of the works fire ser‌vice
Airport fire ser‌vice ve‌hic‌les