Iden‌tity Docu‌ments at Leip‌zig/‌Hal‌le Air‌port
Access to the security areas at Leipzig/Halle Airport is subject to strict security regulations. They are stipulated in the German Aviation Security Act and in the appropriate regulations enacted by the European Union (EU 2015/1998 Implementing Regulation). The entry requirements depend on the workplace. A person who works for a company based at the airport, for example, can apply for an appropriate permanent pass. People can apply for visitor passes for short-term stays. The ID office at Leipzig/Halle Airport works closely with the Free State of Saxony when issuing passes.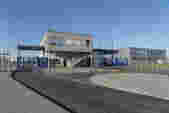 You must have an official reason to access the security zone at Leipzig/Halle Airport; please use the following application forms:
Please note: hard copies of the completed documents (and the necessary attachments) must be submitted.
Issuing background checks and identification passes or permits is subject to fees in line with the current Fee Regulations.
Postal address
Flughafen Leipzig/Halle GmbH
Ausweisstelle
Postfach 1
04029 Leipzig
Visitors
Flughafen Leipzig/Halle GmbH
Ausweisstelle
Am Kraftwerk 1 (Tor 1), 1. OG
04435 Flughafen Leipzig/Halle