Safe‌ty Ma‌na‌ge‌ment Sys‌tem at Lei‌p‌zig/‌Hal‌le Air‌port
Safe operations in the interests of our customers and employees are the top priority for Leipzig/Halle Airport. According to the Guidelines of the International Civil Aviation Organization (ICAO), Leipzig/Halle Airport has a safety management system (SMS) to coordinate all the safety measures at the airport.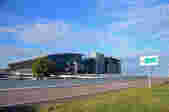 The aim of the SMS is to guarantee a high level of safety. Our employees monitor all the procedures that are relevant to flight operations, they analyse risks and identify potential threats in order to adopt preventive measures. The SMS involves all the employees and partners at Leipzig/Halle Airport to ensure that the highest possible safety standards are followed.
Do you have any questions and suggestions regarding the SMS at Leipzig/Halle Airport? Then please get in touch with us.