2021: air freight volumes continue to soar – but pandemic puts the brakes on passenger traffic
Passenger traffic developed in two different ways
The numbers of passengers passing through Dresden and Leipzig/Halle Airports 1,001,270 overall rose 9 percent compared to the previous year's figure. However, the picture was very different at the two airports. 331,384 passengers were registered at Dresden Airport, which is dominated by scheduled and business travel traffic, 14.1 percent fewer than in the previous year. But the numbers of passengers at Leipzig/Halle Airport, where holiday traffic plays the major role, rose by 25.8 percent to 669,886.
Significant growth in air freight
Freight volumes at Leipzig/Halle Airport increased by 15 percent from approx. 1.3 to almost 1.6 million tonnes in 2021. This set a new record high. The growth during the fourth quarter was particularly significant. A new record was set in terms of volumes in each of the months of October, November and December. The figure in December was 149,123 tonnes, which represents an increase of 5.8 percent compared to the same month in the previous year.
"The constant increase in air freight volumes is not just contributing to the economic development of our corporate group. Increasing quantities of cargo, growth in employment and new companies setting up in business have also made a long-term impact. The whole of Central Germany is benefitting from this. We're expecting growth in freight volumes in 2022 too," says Götz Ahmelmann, CEO of Mitteldeutsche Flughafen AG, and adds, "We're hoping that passenger traffic will continue to recover too – depending on how the pandemic develops – and this also includes business travel. Demand here is still below our expectations in contrast to tourist flights to warm water destinations."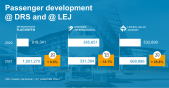 Loading...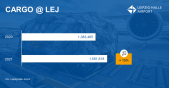 Loading...