Airport Lounge Dresden
Airport Lounge Dresden is temporarely closed from 28/11/2022 to 30/11/2022.
We apologise for any inconvenience.
Take off from Dresden after enjoying a pleasant and relaxing stay in our new airport lounge. Frequent flyers with the Lufthansa Group and KLM* can use the attractive range of services free of charge.
However, any other passengers can also make a booking to spend some time in the lounge to enjoy its many amenities. They can either do so via the airport's online shop or pay using your credit card or debit card at the entrance.
Tickets are available costing EUR 25 (for adults) or EUR 19 (for children aged between 3 and 12).
The air-conditioned lounge offers its visitors a wide range of hot and cold food and drinks in an attractive atmosphere. Free Wi-Fi, personal workstations and charging facilities for mobile phones and notebooks are all available for guests, who can also watch the TV and read newspapers. Not least, the lounge provides a magnificent panoramic view of the apron area and the runway.
* All guests must have a departure ticket for the airline in question, which is valid on that particular day.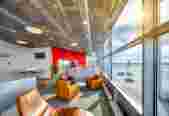 Lufthansa/Swiss:
First class passengers (plus 1 other accompanying person booked on the same flight)
Business class passengers
Passengers with Senator Miles & More status (plus 1 other accompanying person booked on the same flight)
Passengers with HON Circle Miles & More status (plus 1 other accompanying person booked on the same flight)
Passengers with Gold Star Alliance status (plus 1 other person accompanying booked on the same flight)
Eurowings:
BIZclass passengers
Passengers with Senator Miles & More status combined with a "SMART" tariff
Passengers with HON Circle Miles & More status combined with a "SMART" tariff
KLM:
Business class passengers
Passengers with Platinum Flying Blue status (plus 1 other accompanying person booked on the same flight)
Passengers with Gold Flying Blue status (plus 1 other accompanying person booked on the same flight)
Passengers with C2000/C2000 Skippers Flying Blue status (plus 1 other accompanying person booked on the same flight)
Passengers with Ultimate Flying Blue status (plus 1 other accompanying person booked on the same flight)
Passenger with SkyTeam ElitePlus status (plus 1 other accompanying person booked on the same flight)