Car
Dresden Airport is located right next to the A4 motorway and is easy to reach using the Dresden-Flughafen exit. You can drive to Dresden Airport by car from the city centre on the B97 main road.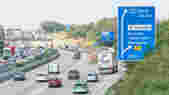 There are enough parking spaces in the multi-storey car park and at the outside car parks near the terminal at Dresden Airport. If you book your parking space online, you save hard cash!
Route planner for cars
Plan your journey to Dresden Airport. You can directly click on the most important access points at the airport on the map and then plan your individual journey by car using the small route planner arrow.