Train and Bus
Train
Dresden Airport station is located in the basement of the terminal. S2 suburban line trains operate to Dresden-Neustadt and Dresden main station for long-distance services every 30 minutes. The journey to Dresden main station takes 21 minutes. You can reach Dresden-Neustadt station in 14 minutes. The S2 trains also operate to Pirna and Heidenau on Mondays - Fridays.
Passengers and visitors can reach the arrivals, departures, conference and gallery levels comfortably from the underground station at Dresden Airport using an escalator or lift.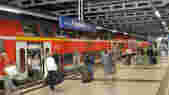 Bus
You can reach Dresden Airport by bus too. Bus services 77 and 80 stop right in front of the entrance to the terminal. Bus service 77 links the airport to the Infineon North stop where you can take a tram to the main station. Bus service 80 takes you to the tram stops on Grenzstrasse and Käthe-Kollwitz-Platz, among other things.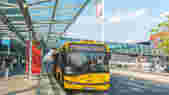 Plan your arrival and departure with Dresdner Verkehrsbetriebe