By Train
Leipzig/Halle Airport has its own railway station directly below the terminal with links to Deutsche Bahn's local and long-distance services. Passengers and visitors can easily reach the check-in building by escalator or lift. If you want to arrive by train, there are several different options available.
You can reach Leipzig/Halle Airport by using the S-Bahn Mitteldeutschland (Central Germany suburban rail service) that operates between Halle, Leipzig. Altenburg and Zwickau; lines S5 and S5X operate to the airport every half hour; the journey time is 14 minutes from Leipzig main station and 10 minutes from Halle main station.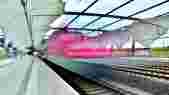 You can also reach Leipzig/Halle Airport on long-distance trains. Line 56 (Emden-Bremen-Hanover-Magdeburg-Halle-Leipzig) IC trains and line 55 (Cologne-Bielefeld-Hanover-Magdeburg-Leipzig-Dresden) trains stop at Leipzig/Halle Airport station every two hours.
Find the right connection: